July 2020 Leaders and Movements: Week Three
The United States of America is an ever-evolving work-in-progress. Social unrest and activism always come before major victories for justice and equality. While we acknowledge the founding of this nation on July 4, we're spending the entire month of July highlighting the leaders and movements who pushed this country towards living up to the ideals it was founded upon – "life, liberty, and the pursuit of happiness." 
July 13
Dolores Huerta is a labor leader and civil rights activist who, with Cesar Chavez, is a co-founder of the National Farmworkers Association in 1962, which later became the United Farm Workers. Huerta has received numerous awards for her community service and advocacy for workers', immigrants', and women's rights, including the Presidential Medal of Freedom in 2012. She was the first Latina inducted into the National Women's Hall of Fame in 1993. 
Huerta is the originator of the phrase, "Sí, se puede". As a role model to many in the Latino community, Huerta is the subject of many corridos (Mexican or Mexican-American ballads) and murals. In California, April 10 is Dolores Huerta Day. PBS released a documentary in 2017 about Dolores Huerta's career. 
July 14
Bayard Rustin was a civil rights organizer who worked alongside A. Philip Randolph, Ella Baker, and Martin Luther King Jr. Rustin was the strategist behind many non-violent direct actions during the civil rights movement, including the March on Washington and the Freedom Rides. Rustin was a gay man, and due to anti-gay discrimination, he was often relegated to behind–the–scenes advising roles. In the 1980s, he became a public advocate on behalf of gay rights, speaking at events as activist and supporter of human rights. 
After the passage of the Civil Rights Act and the Voting Rights Act, Rustin promoted the integration of formerly all-white unions and unionization of African Americans. During the 1970s and 1980s, Rustin served on international humanitarian missions such as aiding refugees from Vietnam and Cambodia. At the time of his death in 1987, he was on a humanitarian mission in Haiti. Rustin was posthumously awarded the Presidential Medal of Freedom in 2013.  
In 1962, Bayard Rustin and Malcolm X engaged in a public debate over the merits of segregation versus integration for the Black community. Watch a clip of that debate from the documentary Brother Outsider about the life of Bayard Rustin: 
July 15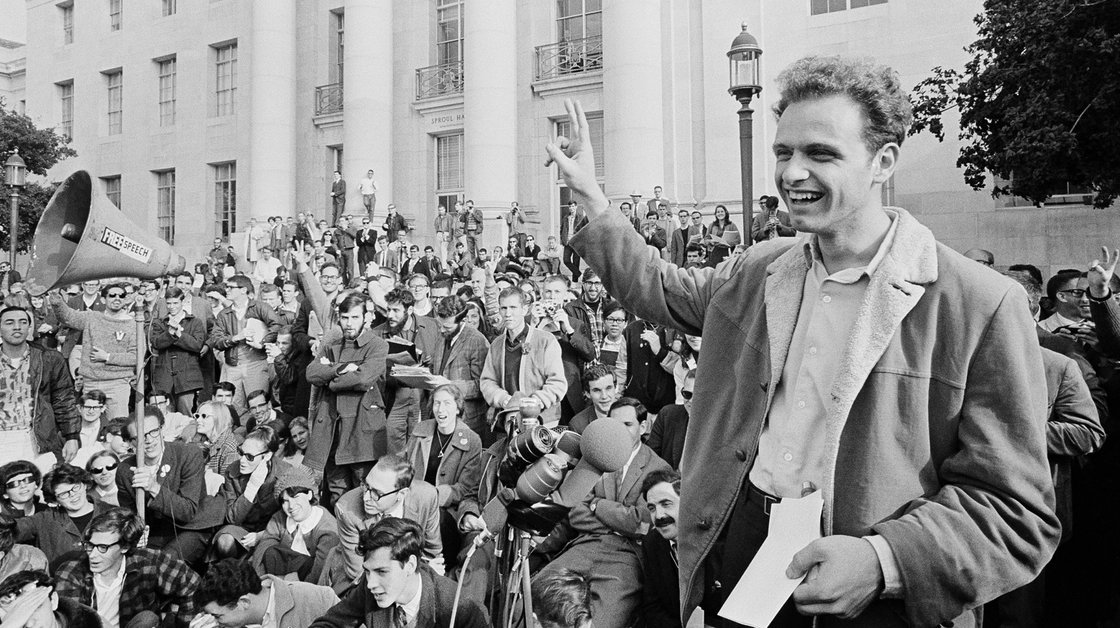 Mario Savio was an activist and a key member in the Berkeley Free Speech Movement as a college student. He joined SNCC's Freedom Summer project in 1965 and was involved in helping Black Mississippians register to vote and teaching in Freedom Schools. Savio and another volunteer were even targets of a violent attack in Jackson, Mississippi. After Savio participated in the protests during Freedom Summer, he was inspired to fight further against the violence he had witnessed. 
When Savio returned to Berkeley after his time in Mississippi, he intended to raise money for SNCC, but found that the university had banned all political activity and fundraising. The Berkeley Free Speech Movement began when a student was arrested for tabling on campus for the civil rights organization CORE. Savio immediately called for a 32-hour sit-in followed by a mass demonstration at the University's Sproul Hall where 800 protestors were eventually arrested. Savio was sentenced to 120 days in jail. During this protest, Savio gave his famous "Bodies Upon the Gears" speech which you can watch here:
July 16
Moctesuma Esparza is a Mexican-American community activist and entertainment executive. During the 1960s, he was a leader in the Chicano Movement for the civil rights of Mexican Americans. He was one of the organizers of the 1968 Chicano Blowouts, a series of youth-led protests for equal educational opportunities. The movement is memorialized in his 2006 HBO film Walkout. 
Esparza became a film producer and is well known for his contributions to the movie industry and commitment to creating opportunities for Latinx people everywhere. He is the CEO of Maya Cinemas, a theater chain catering to the United States Latinx audience. He is an outspoken supporter of Latinx films and many of his films focus on Chicano themes. Learn more about the Los Angeles school walkouts from this PBS video.
July 17
Yuji Ichioka was a historian and civil rights activist best known for his work in ethnic studies and for being a leader in the Asian American movement. As a child, he was imprisoned with his family during Japanese American Internment and later served three years in the military. Ichioka and Emma Gee founded the Asian American Political Alliance in 1968, which helped unify different Asian ethnic groups to push for political and social action. They expressed solidarity and support for other people of color throughout the US and throughout the world, particularly in colonized or recently decolonized countries. 
Ichioka coined the term "Asian American" in 1968. What is now considered a common term for people of Asian ancestry was empowering for its time because it was "chosen, not given." Learn more about the legacy of  Yuji Ichioka from this NBC profile.
July 18
Jenny Brown is an organizer in the women's liberation movement and the author of several books on feminism, reproductive rights, and labor. Brown began studying radical feminism with Gainesville Women's Liberation, which was founded in 1968 and was the first women's liberation group in the South.  
Brown was involved in the campaign to make Plan B, the "morning-after pill," available over-the-counter in the United States. In 2005, Brown was one of nine women arrested for a sit-in blocking access to the entrance of the FDA headquarters in Maryland, and was one the plaintiffs in a lawsuit that ultimately resulted in requiring the FDA to make Plan B available over-the-counter. Brown and NWL continue to advocate for the expansion of access to emergency contraception, including by making it directly available on college campuses and pushing for universal health care. Learn more about Jenny Brown from this interview with Jacobin. 
July 19
Marjorie Stoneman Douglas and Marjorie Harris Carr were both outspoken environmental activists in Florida. Marjorie Harris Carr was inducted in the Florida Women's Hall of Fame in 1996, and Marjorie Stoneman Douglass was posthumously inducted into the National Women's Hall of Fame in 2000. Upon hearing that she was to be inducted, she questioned, "Why should they have a Women's Hall of Fame, as I heard they wanted to put me in the other day? Why not a Citizen's Hall of Fame?" 
Marjorie Stoneman Douglas moved to Miami as a young woman to work for The Miami Herald. She became a freelance writer, producing over one hundred short stories that were published in popular magazines. Her most influential work was the book The Everglades: River of Grass in 1947, which redefined the popular conception of the Everglades as a treasured river instead of a worthless swamp. She was called upon to take a central role in the protection of the Everglades when she was 79 years old. For the remaining 29 years of her life she was "a relentless reporter and fearless crusader" for the natural preservation and restoration of South Florida. 
Marjorie Harris Carr was a scientist and environmental activist who established and lead several conservation efforts in Florida, including co-founding the Alachua Audubon Society in 1960 and co-founding Florida Defenders of the Environment in 1969. Denied admission or funding to graduate programs at Cornell University and the University of North Carolina due to her gender, Carr took a position as the nation's first female wildlife technician at the U.S. Fish and Wildlife Service Welaka National Fish Hatchery. Her work with Florida Defenders of the Environment to preserve the Ocklawaha River Valley helped halt construction of the Cross Florida Barge Canal, which is now a public conservation and recreation area named in her honor. 
The Marjorie is a woman-owned reporting nonprofit that continues the legacy of these activists by  promoting a greater understanding of issues related to women and the environment in Florida through storytelling and community building. Find out more about their work here.